I've been thinking about toad in the hole for about two weeks. Every year, about this time, I think about toad in the hole - how easy it is, how popular it is and how much I like it. I'm ohsopleased to be able to share with you my recipe for the best veggie toad in the hole.
It's a pancake day thing I think.
I'm ohsopleased to be able to share with you my recipe for the best veggie toad in the hole. I've tried a few different recipes over the years and this is the amalgamation of a couple of them. It's sort of loosely based on
this one by the Baker Brothers
, with a few variations. I'd also like to point out that I do it slightly differently for D, who is not a fan of red onion or mustard in great quantities. I've provided the instructions here for making a large adult one (probably too large, you could definitely get away with a couple of extra sausages and adding another person to the table) and a mini one for my mini one. I would also say you really don't need the mash with this although I opted with it. It fits in in terms of time but it's probably just a bit too much carb.
D helped me with the making of this - he helped me pick the fresh herbs and did the measuring and mixing of the batter. He ate nearly all of his portion - he always does eat more when he's helped to make it.
Stats: - (I'm not pro pointing at the moment, or even calculating, although I do still have one more propoints recipe to share) 2 very large adult portions, one mini portion.
Ingredients: -
2 tbsps olive oil
2 red onions, roughly chopped
6 fresh, not frozen Quorn sausages (or your favourite veggie sausages or eight if you want to split between four people)
2 eggs
200ml milk
115g plain flour (I actually subbed half strong bread flour as I'd run out and it made no difference to the finished product)
200ml milk (I used semi-skimmed)
two teaspoons of mustard powder
two large sprigs of rosemary
handful of sage leaves
a teaspoon of dried thyme (I'd recommend fresh normally but I didn't have any to hand. Our thyme bush died over the winter...)
Preheat your oven to gas mark six. Put a tablespoon of oil in your large ceramic dish and a teaspoon in your small ceramic dish. Put five (or seven) sausages in your large ceramic and one in your small one. Put in the oven for around ten minutes, until browned a bit and the oil is hot.
Meanwhile make the batter - mix together the flour, egg and milk, whisking until smooth. Add the rosemary.
In a frying pan, use the remaining two teaspoons of oil to fry the red onion and sage leaves over a medium heat for six to seven minutes.
Get the smaller ceramic dish out of the oven and quickly put a thin layer of the batter in - it will start to cook almost immediately in the oil.
Add the onions, sage and mustard powder to the remaining batter mixture. Remove the larger ceramic dish and try to pour in the mixture making a thin layer across the bottom. Again, it will start to cook immediately when it meets the hot oil/sausages.
Put back in the oven for half an hour. Do NOT open the oven, no matter how tempted you are. It WILL collapse if you do so. Trust me - I've done it many times before and it never works out well.
Serve.
Here's the little one's toad in the hole - puffed up a little better than the grown-up version.
I served with mash, broccoli and veggie gravy. I recommend Bisto's Best Vegetable gravy granules.
Perfection.
As this features rosemary, I'm going to be linking up with Lavender and Lovage's : -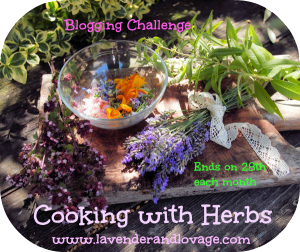 I'm also linking up with the
GB cooking around the world
challenge: -